Vice President Matthew Fajack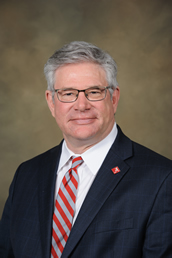 Matthew Fajack
Matthew M. Fajack is Vice President for Financial Affairs and Treasurer for The University of Alabama. He joined the University in this position on February 15, 2018. In this current role at UA, he has full responsibility for the Office for Financial Affairs including investment management, budgeting, financial accounting and reporting, and human resources. He also oversees the auxiliary services, land management, business services, maintenance, construction, public safety, and risk management areas.
Previously, Fajack has served as vice chancellor for finance and administration at the University of North Carolina at Chapel Hill since 2014, serving as the principal finance and business officer. He was the University of Florida's vice president and chief financial officer from 2008 to 2014.
Fajack also served as executive director of financial affairs at Kent State University for three years and as chief financial officer for Beta Capital Group for 14 years. Before joining Beta Capital Group in 1990, he was an audit manager for Arthur Andersen & Co.
Mr. Fajack, a native of Ohio, earned a bachelor's degree in accounting from the University of Minnesota.
Click to show/hide extra Quick Links